Ultimate WooCommerce

Price: $19 This add-on is included in the Premium Bundleopen in new window.
Description
The Ultimate WooCommerce add-on provides a deeper integration of Money Manager with one of the most popular e-commerce platforms for WordPress, WooCommerceopen in new window. The add-on is constantly evolving, providing you with new useful features.
Installation
After you have received the archive with the add-on, make sure that the Money Manageropen in new window plugin is installed and activated.
After that, follow the instructionsopen in new window to install and activate the add-on.
Usage
After installing the Ultimate WooCommerce add-on, following additional features are activated, which are described below.
Refund handling
Any partial refund in WooCommerce is now counted and taken into account.
For example, if the order amount is $15 and the refund is $5, that is, the total amount is $10, then the transaction amount in Money Manager is also updated to $10.
Automatic deletion of transactions
There is a new checkbox in the WooCommerce integration settings1️⃣. When enabled, Money Manager automatically deletes a transaction if the status of the corresponding WooCommerce order changes from "Paid order" to any other.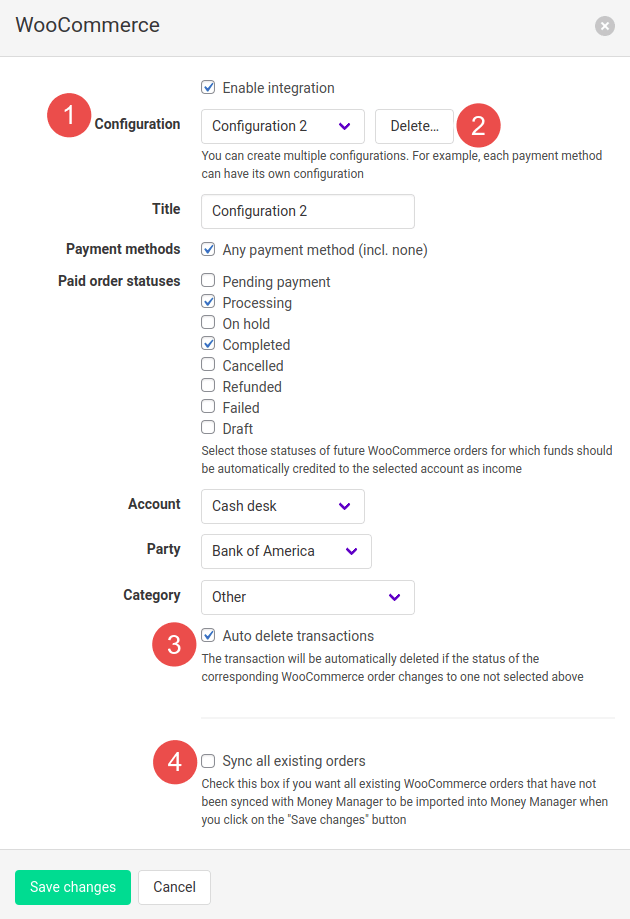 Change log
1.2.0 | February 14, 2023
1.1.0 | October 24, 2022
Added support for Money Manager v1.19.0
1.0.0 | September 1, 2022