Ultimate WooCommerce

Price: $19 This add-on is included in the Premium Bundleopen in new window.
Description
The Ultimate WooCommerce add-on provides a deeper integration of Money Manager with one of the most popular e-commerce platforms for WordPress, WooCommerceopen in new window. The add-on is constantly evolving, providing you with new useful features.
Installation
After you have received the archive with the add-on, make sure that the Money Manageropen in new window plugin is installed and activated.
After that, follow the instructionsopen in new window to install and activate the add-on.
Usage
After installing the Ultimate WooCommerce add-on, following additional features are activated, which are described below.
Refund handling
Any partial refund in WooCommerce is now counted and taken into account.
For example, if the order amount is $15 and the refund is $5, that is, the total amount is $10, then the transaction amount in Money Manager is also updated to $10.
Additional integration settings
There are 2 extra checkboxes in the WooCommerce integration settings: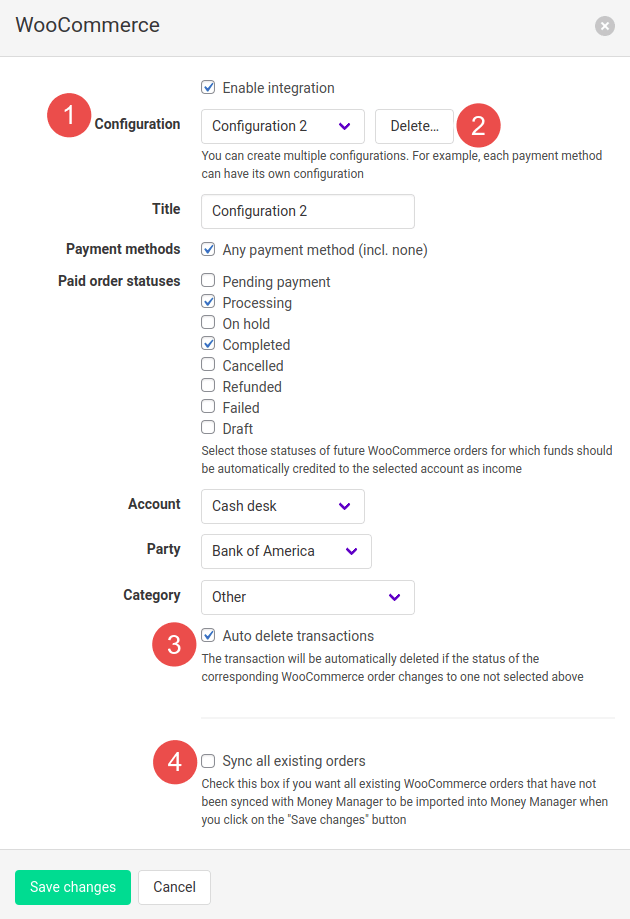 1️⃣
Auto delete transactions
When enabled, Money Manager automatically deletes a transaction if the status of the corresponding WooCommerce order changes from one of the Paid order statuses to any other.
2️⃣
Sync all existing orders
If you want to sync all your WooCommerce orders with Money Manager (for example, old orders that were made before you started using Money Manager), then check this box. The import process will begin when you click the Save changes button.
Change log
1.3.1 | July 5, 2023
Fixed an issue with account balance recalculation after syncing orders
1.3.0 | May 29, 2023
Added the ability to sync all existing WooCommerce orders with Money Manager [1]
1.2.0 | February 14, 2023
1.1.0 | October 24, 2022
Added support for Money Manager v1.19.0
1.0.0 | September 1, 2022