Extended Reports

Price: $39 This add-on is included in the Premium Bundleopen in new window.
Description
The Extended Reports add-on brings premium functionality to reports. The add-on is constantly evolving, providing you with new useful features.
Installation
After you have received the archive with the add-on, make sure that the Money Manageropen in new window plugin is installed and activated.
After that, follow the instructionsopen in new window to install and activate the add-on.
Usage
The premium features that the add-on provides are described below.
Income & Expenses report
With the Extended Reports add-on, you can choose an unlimited number of periods and compare income and expenses data for different years.
Click the plus button1️⃣ to add a new period.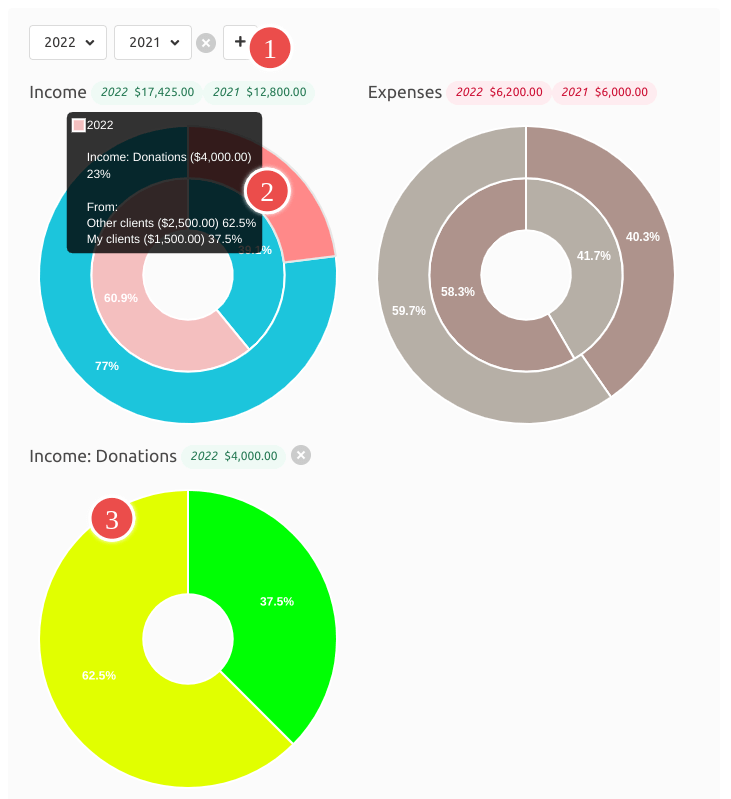 When you hover over any part of the chart, a tooltip2️⃣ shows which period the data belongs to, as well as which parties have contributed to the amount of a particular category.
If you click on a part of the chart, the data from the tooltip will be displayed as a new chart3️⃣ below.
Change log
1.0.0 | July 8, 2022