Frontend Reports
Price: $34 This add-on is included in the Premium Bundleopen in new window.
Description
The Frontend Reports add-on allows you to publish reports on the pages of your website. Access to reports may be restricted based on user roles.
Installation
After you have received the archive with the add-on, make sure that the Money Manageropen in new window plugin is installed and activated.
After that, follow the instructionsopen in new window to install and activate the add-on.
Usage
After installing the add-on, a new Frontend reports section will appear in the Money Manager menu in the admin console.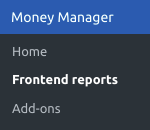 In the new section, shortcode generators1️⃣ for supported reports are available to you. Shortcodes can then be inserted into the pages of your site where the report will be displayed.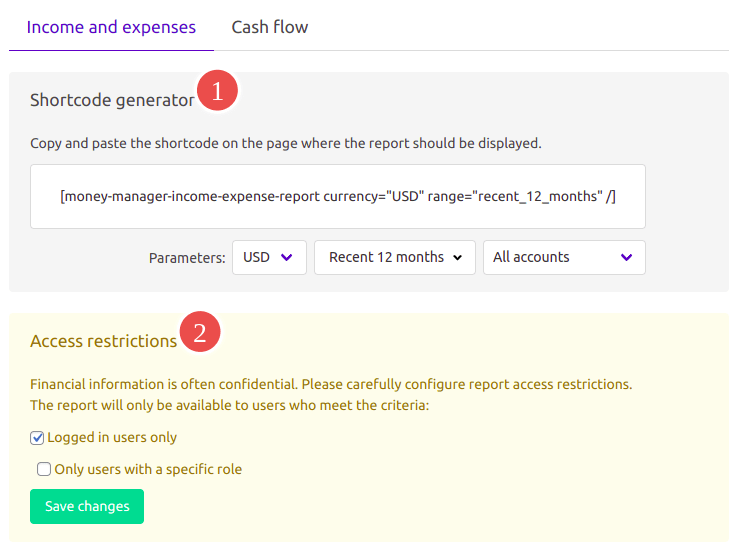 Reports on the pages of your site will be visible only to those users who meet the criteria for accessing the report.
To change the criteria for a particular report, use the Access restrictions2️⃣ tool. At the end, don't forget to click the Save changes button.
Please note that each report type has its own access settings.
Change log
1.3.0 | February 14, 2023
1.2.0 | August 9, 2022
Added the ability to limit reports to a particular account [1]
1.1.0 | June 14, 2022
1.0.1 | March 26, 2022
Fixed a minor issue with checking access rights to reports
1.0.0 | March 26, 2022